Model PK & PK-E

Aluminum SpotDiffuser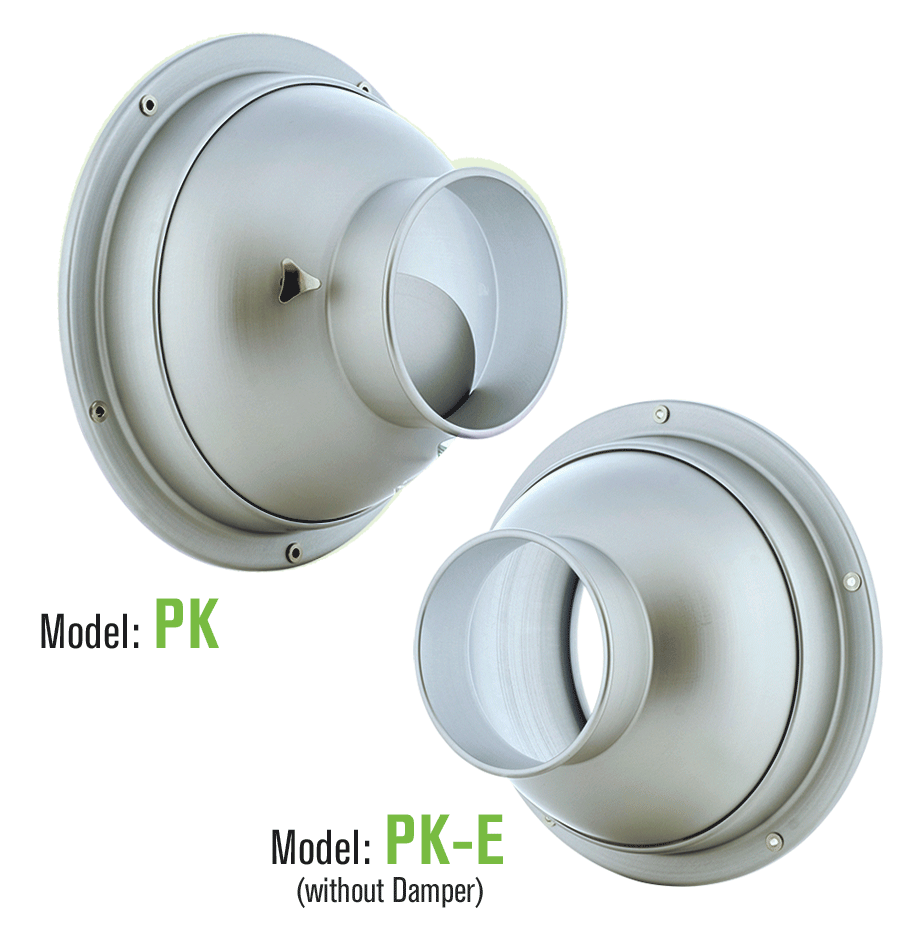 The SpotDiffuser model PK and PK-E (without Damper) are excellent for spot heating and cooling remote areas. Kitchens, factories, theaters, indoor sports facilities, airport terminals or any place where you need to move conditioned air from an inaccessible place to the work environment is easily handled by the PK and PK-E SpotDiffusers. Engineered to exacting standards and stylish in design, the PK and PK-E are the perfect choices for many new and retrofit building construction.

Material: Aluminum
Finish: Anodized
Sizes: 3" 4" 5" 6" 7" 8" 10" 12" 14" 16" 18" 20"
FEATURES

The model PK and PK-E can be mounted in a vertical or horizontal position or any angle in between. The architect or engineer has unlimited applications and an infinite choice of mounting locations.

The ventilation efficiency of the PK and PK-E allow long airflow throws to ventilate or condition remote areas where ducting would be impractical or cost prohibitive.

The directional control can pinpoint the airflow where it's needed as space or occupant configurations change. This feature makes these units ideal for use on stages and movie sets.

The modulating volume control allows precise adjustment of airflow in all application without need for special tools, removal or disassembly (PK).

The lightweight and corrosion-resistant finish make these units easy to install and tailored to a variety of applications. Its solid construction makes this unit rugged and durable in adverse conditions, without possibility of failure of a weld or rivet.
FINISH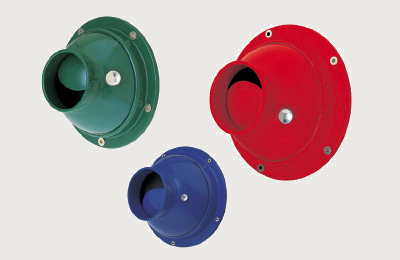 The standard finish is clear anodized aluminum. Powder coatings in a variety of colors are available upon request at a nominal charge. Please contact our sales department for assistance and detailed ordering information.
INSTALLATION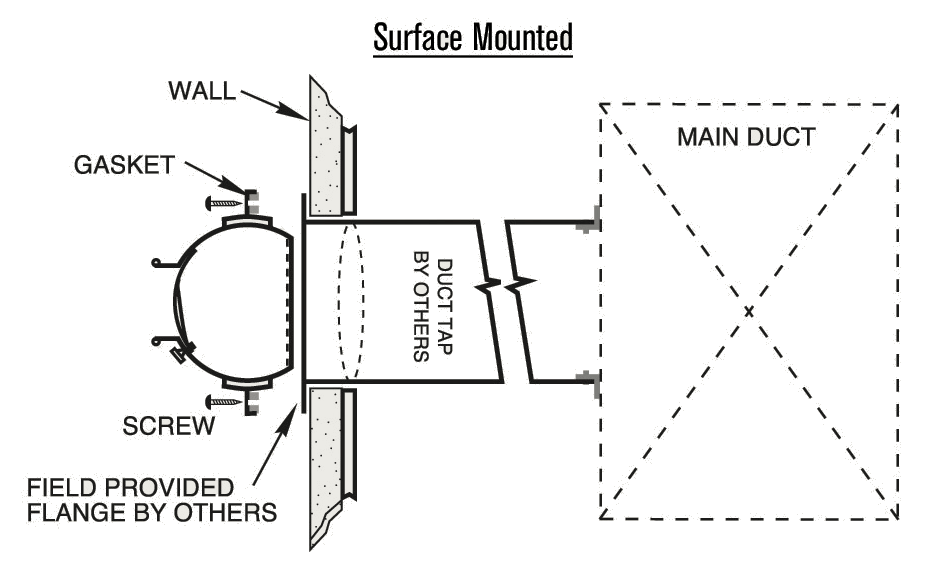 The SEIHO Model PK and PK-E Aluminum SpotDiffusers are designed for ease of installation on any ceiling or wall surface after all other mechanical and architectural work has been completed-no interference with other hidden or exposed items during the construction process, and therefore no cause for delays. Because of the light weight aluminum construction, the Model PK and PK-E require no special hangers.

For direct tap installation at the duct the Model PK and PK-E can be screwed directly to the duct. Duct velocities should be low, about 500 fpm.

The Model PK and PK-E are simply installed using no special tools or techniques required. Final airflow adjustments can then be made by the installer, or during air balancing of the room or building. Variations are easy if the room use is altered.
DIMENSIONS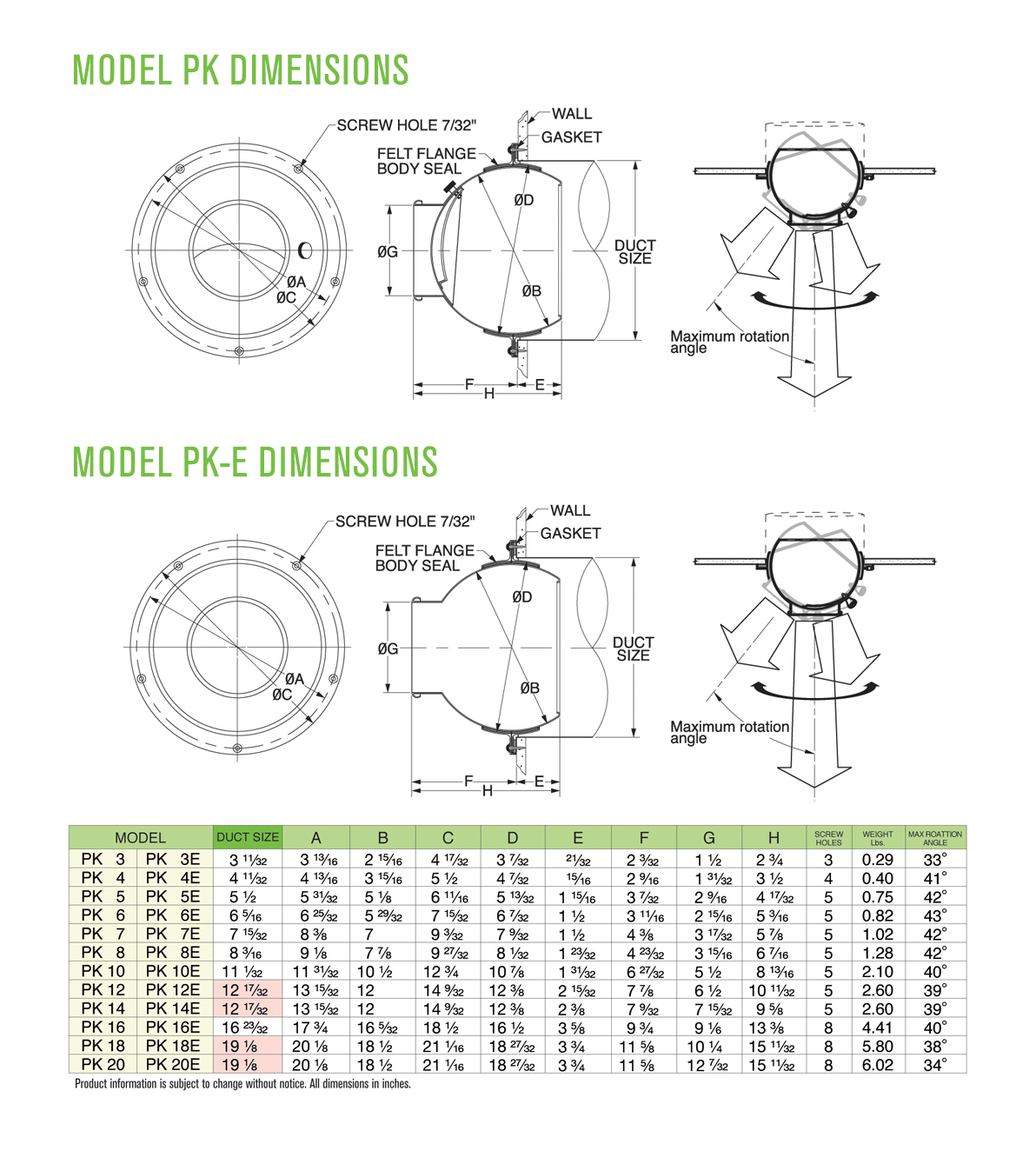 DOWNLOAD